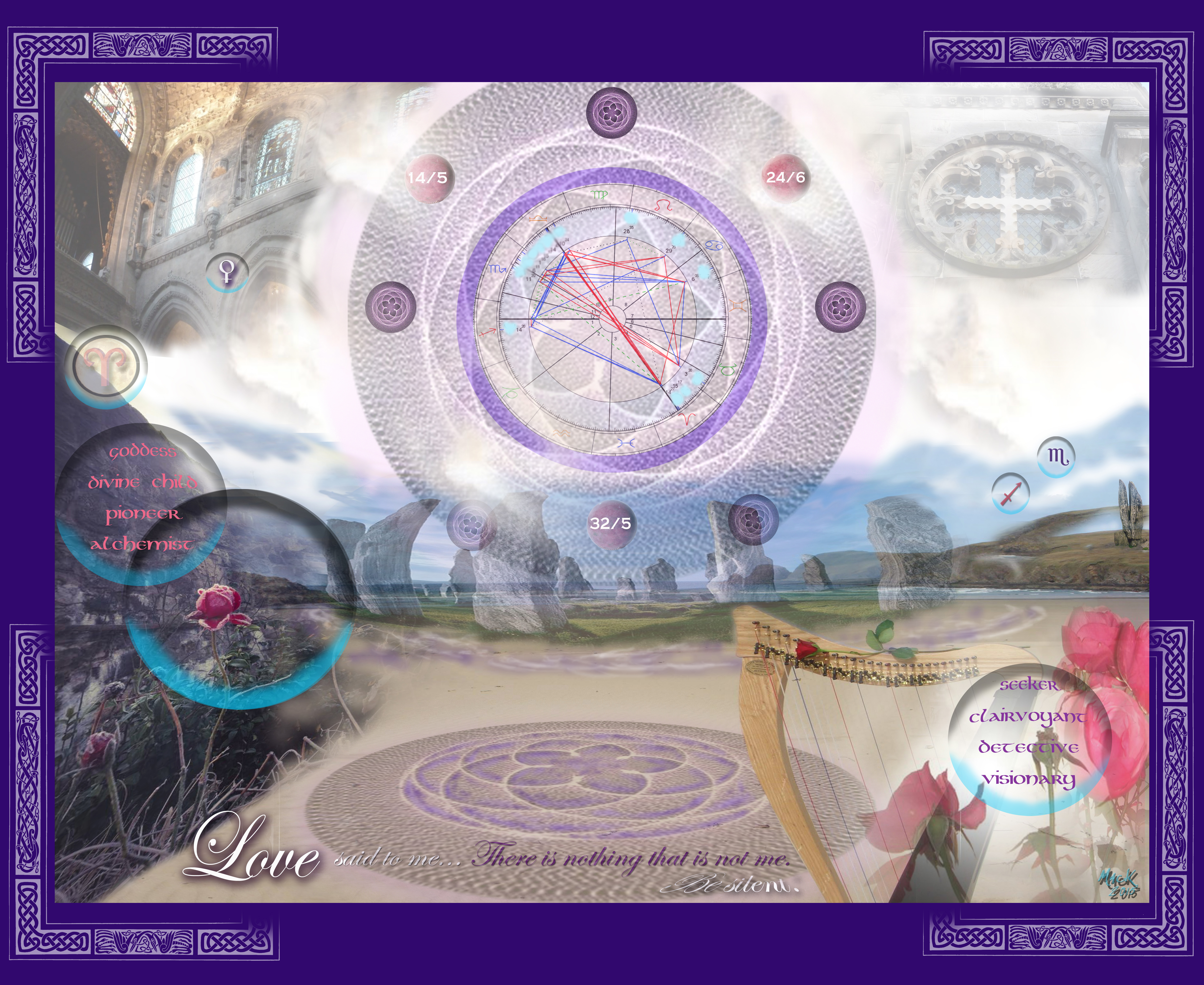 $497 *includes a consultation to collaborate on your personal energy and image themes
A few years ago I started creating what I call 'Soul Mandala' art pieces.  While working with clients doing various energy readings and modalities such as personal archetypal chart casting and interpretation, Tibetan Shamanism guided imagery sessions, as well was evolutionary astrology chart readings - it dawned on me that not only was there an art form to integrating this information holistically as all of the information is layered and strung together, but that each person and their respective energies really are an art form in themselves.  We are so beautifully designed - honestly more than I had ever imagined.  And the syncronicity of it all is astounding.  For those who do these types of subtle energy work or have have traveled this road - you know what I'm talking about - the threads of truth simply reveal themselves when we open the door and peer inside.  So finally I figured out a way to fluidly connect these dots and put it all together into a simple cohesive visual image that could hopefully make this tangible - from the realm of thought to that of physical form.  It has been an absolute joy and honor to create these for you beautiful people  --- and for those who may not know this is a service/product I offer - now you do! ;-)  
I also define these as a singular image that helps us to feel validated about who we are, who we want to be, and how to manage our respective energies. Putting this all together can be extremely powerful alchemy - personal power - and for personal transformation or actualization.

Your Soul Mandala art piece is uniquely created with your birth information and personal archetypal themes, astrology chart, imagery, significant numerology and destiny elements and soul evolution (including south/north node) in mind.  
What exactly are these?
Soul Mandala art pieces are loved by those who are active in their personal growth, are interested in re-membering and honoring their personal life path and soul's sacred journey. I create them using mixed media (acrylic painting, digital painting and drawing, and photography).
The natal astrology chart is a graph formed by the position of the planets at the moment of your birth -  a 'snapshot' of the heavens as you entered the physical world.  The resulting angular relationships and configurations between the planets create a beautiful sacred geometrical pattern that can be utilized as a self-actualizing image (meditative mandala) for integrating all parts of the self (or facilitate personal health balance or recovery) in a holistic way. These symbols are therefore opportunities for deep connection into ourselves and our personal power.  Hang it somewhere you'll see it often to enhance the 'feng-shui' like effect and watch the energy move, change, and flow.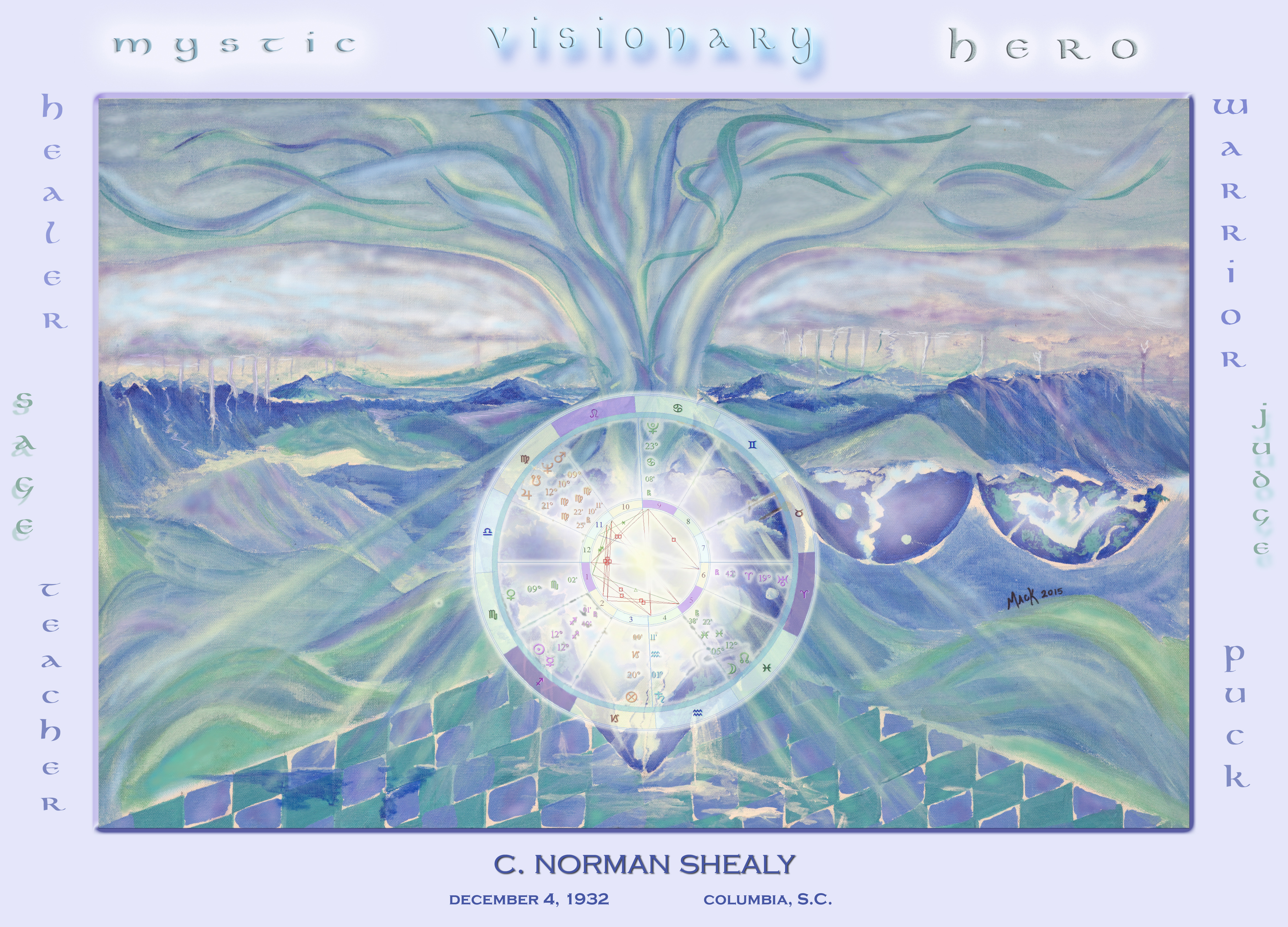 Mandala means Sacred Circle or Container of Essence in Sanskrit. The Mandala is a
meditative and creative process or practice that helps to rediscover, experience and regain a sense
of wholeness within oneself, connection with the "authentic self" and oneness with all of creation.
Old reactive patterns that no longer serve the highest good can be transformed into authentic
awareness of joy, love, peace, harmony and spontaneous creativity. Creating and interacting with
the Mandala evokes a transpersonal, meditative, creative and visual experience of wholeness, and
"inner light."
To Order:

They make great gifts to yourself - or for a friend or loved one.  
Place an order to have a personally created soul mandala for you by sending a message to: Andrew@mackeyfit.com, drew@andrew-mackey.com, or via messenger on Facebook. Please follow the link below if you wish to see more examples - at Andrew Mackey Visionary Art on Facebook.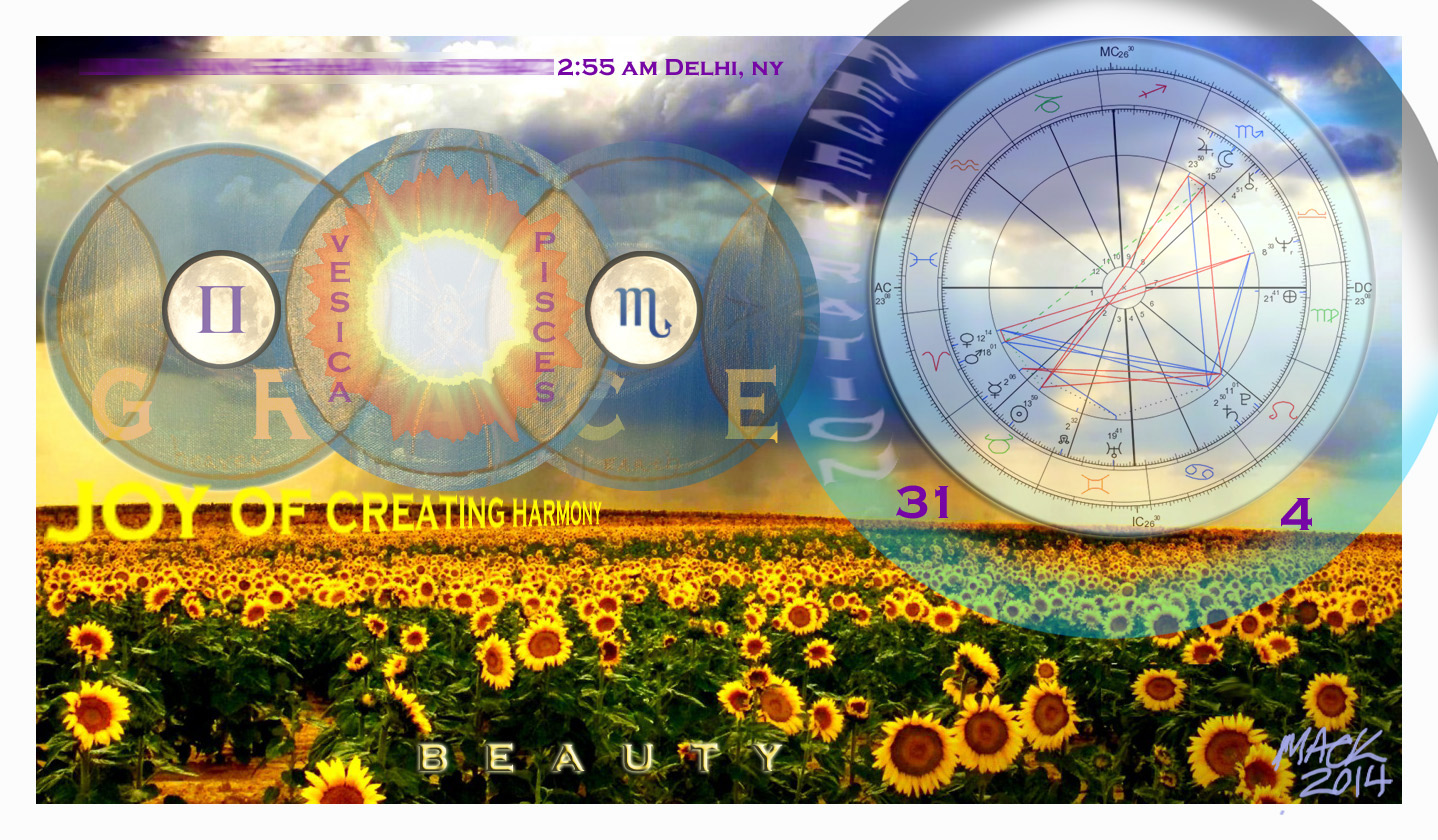 Details:
The finished product - a high resolution digital art file is emailed to you for printing at your own convenience and preference. The size in inches/feet varies by design and persona preference. Often I create them around 3 ft by 3 ft for example. You can print at any size that suits your tastes/needs. 
High resolution art image is created to be printed on high quality photo paper, canvas, bamboo, metal or whatever you like.
There may be a waiting list. Please allow up to 2-4 weeks from date of order once you have made the purchase and your position in the queue comes up.

enter: andrew@mackeyfit.com to order
What others are saying:
"Loooooooooooooooooooovve them! So beautiful!!!!!! Like a little piece of heaven staring back at you!" - Deborah M
"Your art and intuition are quite beautiful to behold.  Thank you for the gift of who you are in the world." -- Alecia R.
"Andrew, I burst into tears when I saw it - it's perfect. It's the most beautiful thing I have ever seen. It's so powerful….I feel a balance of feminine and destiny. It lifts me up when I look at it and it carries me. It fills me with complete passion - the colors, and the way you laid it out - every element is perfect. This is totally me, fiery, and the colors are so absolutely what I love seeing - purples and pinks in skies and sunsets." - RCW
"Bravo! Truly beautiful in the knowledge and sincere intention you have put into this." - I.M.
"Andrew was able to "see" me; a profound gift. Through creative, delightful conversation, exchange of ideas and through his wisdom, astrological knowledge, insight, and artistic talent, a beautiful mandala came into being. This was a 40th birthday present to myself, to mark a number of incredible transitions in my life, to honor my journey and to delight in the human and woman and spirit embodied I am. Thank you Andrew!" - A.C. 
"Thank you so much again! What a incredible experience! You are truly gifted on multiple levels and this artwork is absolutely beautiful! The work you do is deep, life-altering, powerful and enlightening. I highly recommend everyone have this experience as it crystallizes (and puts form to) the deeper levels of who we are, our unique soul path, our themes, powers and learnings. (I bet people reading this think we are related. We are not! Hehe....just a divine orchestration of a kindred connection - and a fun last name. ***Highly recommend Andrew's work to anyone interested in exploring the depths of who they are and the potentials of their soul."   -KMack
"Andrew's work is divinely guided and spiritually inspired. Every soul mandala is unique and represents a beautiful work of art in its own right. When considered with the deeper layers of meaning and expression that arrive to support the imagery, Andrew truly paints a soul portrait for every commissioned work. For the soul mandala he created for me, it's a true tribute to his talent and abilities to know he has never met me in person, nor spoken with me by phone. We have had some interaction on FB chat -- the resulting work has been shown to many who do know me well - and are amazed at how he painted a picture of Who I Am that is so accurate. Everyone knows they deserve something truly special - and everyone has a person in their life who has every material object on the planet, or is hard to gift. Treat yourself or others to working with Andrew -- my guess is that you'll agree!" - haleyheart
"I was blown away by my astrological and numerology readings and all the other things Andrew included in my session with him! It all very accurately reflected both the unique gifts I feel I have to offer and the issues of my life that I am continually working with. My soul mandala is exquisite, and again it sings to my heart and helps me keep my mind and heart wide open. All of these beautiful things give me the courage to follow what has heart and meaning for me. Everyday I look at my mandala on my wall and it reinforces my new way of feeling, seeing, and doing things. It was a "fresh start", a new way of living in harmony with my TRUE self!" - Olivia M.
See more Soul-Mandalas at Andrew Mackey Visionary Art Facebook Page